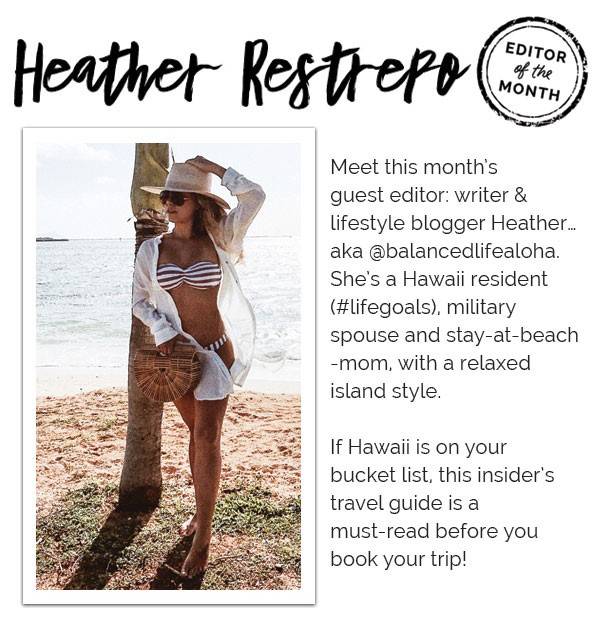 Aloha from O'ahu (the 3rd largest Hawaiian island)!
I'm Heather, a lifestyle blogger at balancedlifealoha.com and Hawaii resident for 10+ years. Some of the most frequent questions I receive from readers typically has something to do with travling to Hawaii. Which is why I'm excited to have the opportunity to share a quick local's guide for visitors and the beach-loving Bandabeau community.  
First and foremost...there are MANY Hawaiian islands that each have their own unique beauty and treasures. And although I may be biased, O'ahu is the island I'd recommend, as it's known as "The Gathering Place" (for good reason!) It has the highest population of the 8 main islands, and is known to be a thriving, always happening & very diverse melting pot caressed by the ocean breeze.
Ok for real though, the constant trade winds are what allow Hawaii to have the almost-perfect weather (not too hot!), while still offering the paradise-like lifestyle to enjoy. From the soft sand beaches, to the coconut trees, to the lush green gardens.  
But these ocean level winds are also the reason there's a serious need for my BandaBeau towel tamer!!  With year-round sunshine, pool hopping and beach days are the norm, so it's the perfect trusty sidekick to keep my beach towel in place when those trade winds kick up! With the towel tamer, you have more time to focus on that can't-put-it-down novel, good company, pupu's (appetizers) & Mai Tais, or whatever is YOUR ideal relaxation choice by the pool or at the beach.
So in addition to the dreamy island attributes, I also have to mention the gorgeous tropical flowers that bloom here all year round, the "Aloha Spirit" instilled within the locals, and the ONO island cuisine (delicious!) - all of which are why I love living here. It's no wonder BandaBeau's Summer '18 collection is inspired by Hawaii!
Ok, so here are my recommendations
for your O'ahu travels:
1. MUST-HAVE FOOD & DRINK
Butter mochi
Malasadas
Poke (pronounced POH-kay)
Acai bowls
Spam musubi
Loco moco
Likoi juice/cocktails
Garlic shrimp plate  
2. KID-FRIENDLY PLACES
Honolulu Zoo
Waikiki Beach
Waikiki Aquarium
Disney Aulani Resort
Polynesian Cultural Center
Dole Plantation
Sea Life Park
3. RESTAURANTS FOR DRINKS/HAPPY HOUR
Rum Fire
Duke's Waikiki
Lulu's Waikiki
Roy's Hawaii
Kona Brewing Co.
4. HOTELS
Marriott's Ko Olina Beach Club
Four Seasons Resort Oahu at Ko Olina Disney Aulani Resort
Turtle Bay Resort
Hilton Hawaiian Village
Moana Surfrider
Outrigger Reef Waikiki Beach Resort
Sheraton Waikiki Hotel
Royal Hawaiian Hotel
4. SHOPPING
Waikiki Beach Walk
Royal Hawaiian Shopping Center
Ala Moana Shopping Center
Waikele Premium Outlets
Ka Makana Ali'i
4. THINGS TO DO
Helicopter ride - nothing compares to seeing the depths of the island from the air! Take a helicopter tour to fly over hidden waterfalls, historic craters, Honolulu city views, and some of the world's best beaches. Paradise Helicopters & Blue Hawaiian Helicopters are well-known tour companies around the islands.  
Kayak - ride to Na Mokulua or commonly known as "The Mokes". Just make sure to check the water conditions prior to committing to this adventure! On a clear and calm day it makes for such a beautiful and fun experience. TIP: head out early to avoid the afternoon rush if you book with Kailua Beach Adventures .
Hikes - Koko Head Stairs for a good work out, Diamond Head for a more relaxed beginners hike, Manoa Falls, which can be crowded at times, is a medium difficulty hike that leads to a waterfall, and hiking to Lanikai Pillbox hike offers a stunning view of the Easide (SO beautiful at sunrise!)
Snorkel - head to Hanauma Bay, very popular amongst visitors, because you can rent snorkel gear right there at the beach! Closed on Tuesdays, and parking fills up fast, so again - PLAN AHEAD!
Waikiki Beach - famous for the especially gorgeous sunsets!
North Shore - for one-of-a-kind country views, relaxing, surfing (not for beginners though), historically big waves & professional competitions, roadside fresh coconuts & acai bowls, and tons more ONO food to try!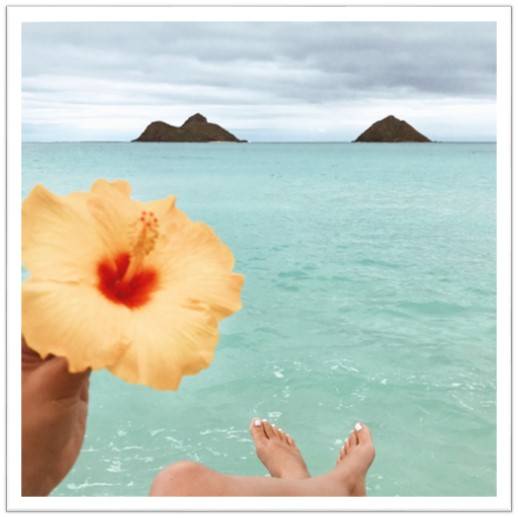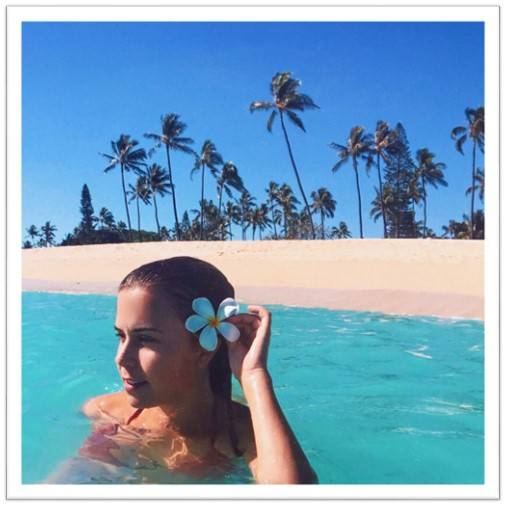 There's so much to see and even more to do on The Gathering Island, so even if your visit is a short one, I'm sure that choosing any of these options will ensure you go back home with rich Hawaiian memories!
Just don't forget to relax a little bit too while you're here - it is, after all, an island paradise :)
Mahalo for reading!
Heather