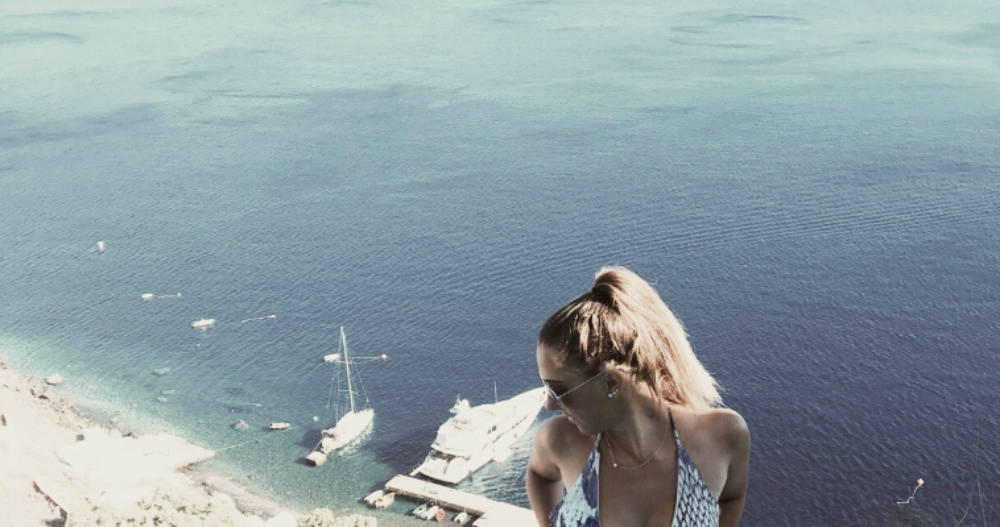 "Hey BandaBeau babes! I'm Caroline, creator of ProjectSweetCaroline.com, an affordable fashion & beauty blog based on the foundation that everything in life will be ok with a little bit of self-tanner and a cohesive insta aesthetic.
In the 8 years I've been creating and editing content, I've discovered my 4 main loves in life: style, makeup, décor and travel. I've been lucky to have done a lot of traveling in my life - my favorite destination has been Santorini, Greece but I'm super excited for my upcoming trip to Miami in March.
After countless trips of forgotten toothpaste and overflowing makeup bags, I finally figured out what to pack, so I wanted to share my favorite travel essentials that are perfect for your next beach vacay!"

1. Pineapple Canvas Beach Tote:
This is one of my favorite beach bags that can also be used as a carry on. It's super tropical and the material doesn't let sand get into the bag! Its soldout online, so grab one in stores. $30
3. Straw Fedora Hat:
These kind of hats are great for making a bathing suit or flowy cover up look more stylish. And traveling with them is fuss-free when you wear it on the plane instead of packing it in your suitcase. $16
I was debating buying this cover up, but was sold after I saw one of my favorite bloggers raving about it's quality. Love it in both white and army green. $39
7. Travel "Wash & Wear" Lingerie Bags:
These Kate Spade bags are super cute and great for storing bathing suits, or separating your dirty from clean lingerie. Be sure to pack a swimsuit in your carry on so you're ready to hit the beach upon arrival, even if your luggage gets lost! $20
9. "I'm Outta Here" Luggage Tag:
Something about new luggage tags make me feel more confident when I walk through the airport. This one has rose gold foil lettering on a pink leather tag, with other text options like "First Class" and "Available for Weekends". How fun! $10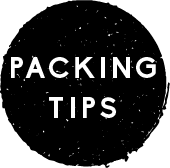 Now, after adding all these amazing essentials to your packing list, you're clearly going to have to do some condensing, right? Luckily, most of these items are small enough to fit in a purse or carry on, but here are a few smart tips to step up your packing game and ease your traveling experience.
Invest in packing cubes. These are SO worth the investment because they save so much space. I like that they keep your items organized during your trip (so you don't even need to unpack!), and fill all the extra space in your suitcase so everything fits just right. Bonus: they don't require a device to suck the air out of them.
Use the cotton ball trick. 
Put a cotton ball on top of your powdered make up to keep the palettes from shattering.
Put your foundation in a contact lense case. 
This saves the space of a foundation bottle, and also keeps liquids from leaking.
Do the straw trick. I like to put each of my necklaces through a plastic straw so they don't get tangled in my bag. This trick always ends up saving me a ton of time when I'm in a rush to get ready.
Use your BandaBeau for extra storage. Store your smallest items in the travel pouch of your BB. This space is too valuable to go to waste...tuck small stuff in the pouch or use it to store your BandaBeau (try to recreate the way it was shipped to you by folding the BB up and stuffing it inside the self-contained travel pouch)
Now that you know some of my favorite travel tricks and beachy accessories, I hope you feel more prepared for your next beach vacay! Check out my website if you need any travel style tips & feel free to message me if you have any questions about any of these products or packing tips.
And of course, thanks to the amazing team at BandaBeau for giving me the opportunity to write this post and connect with a trendy new audience.
XO,
Sweetcaroline
---
ABOUT THE AUTHOR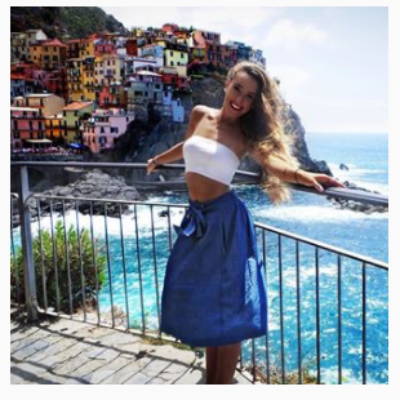 HELLO
I'm Caroline, aka @ ProjectSweetCaroline, a lifestyle blog of all things affordable! I'm a style lover, world traveler & clever life hacker, and thrilled to have the opportunity to share my favorite beach accessories, and unique and clever packing hacks!
XO,
Caroline
---