A travel blogger's vacay guide: where to stay, what to do and how to find great deals!
Posted on January 31 2018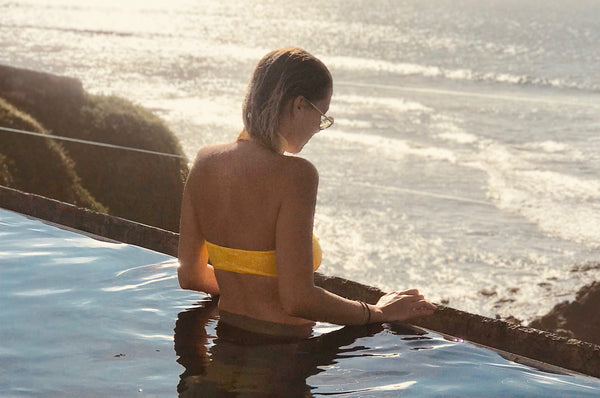 Hi there! I'm Kate, editor and content creator for ShadyKate.com, a Fashion & Travel Blog based out of sunny San Diego, CA, here to share some warm weather travel tips with the beach lovers of the BandaBeau community! I am originally from the East coast and it took suffering through exactly 28 winter seasons for me to realize that it was time to relocate to one of the only places in the US that is relatively warm year round, and I now consider myself a part-time blogger, and full-time sun chaser (with a healthy dose of SPF, of course).
Since this is my first year skipping the winter season, I try to take full advantage of the warmer climate and hit the beach or pool as much as possible. The three essentials always in my beach bag are SPF, my favorite pair of classic round RayBans and the "Catalina" BandaBeau. The multi-functional BandaBeau is an essential b/c it claims my seat by the pool and keeps me from jumping out of the water if the Santa Ana winds try to blow my towel off of my chair! My absolute fav part about my BB, however, is the secret pouch! I love that I can jump in the ocean or do some laps in the pool, without worrying someone will grab my brand new iphone off my chair, since the pouch is strategically hidden.
Ok, now I think I know what you're thinking, "Kate, what good is it knowing your beach bag essentials if I live somewhere where it's freeeezing right now?" Trust me, I hear you! From my years on the East coast, I completely understand your pain and know the dead of winter is the perfect time to treat yourself to a warm weather vacay! 
To help you get that well-deserved vacation booked in no time, I've rounded up a few of my favorite beach destinations where it's warm year-round. These destination recos and travel tips mean you'll have more time to dust off your beach bag (making sure you've got all essentials packed!), and will be ready to escape the cold and soak up some sun this winter! 
Here are my top 5 warm-weather vacay destinations:
1. BAJA CALIFORNIA, MEXICO
When most people think of Mexico, they think of Cabo San Lucas or Cancun; and while these spots are great, they're major tourist attractions so the resorts can get crowded and pricy. Try checking out the West coast Peninsula of Mexico, also known as Baja California. You'll experience uninterrupted views of the Pacific Ocean, local culture and way more privacy. Check out Tijuana for some awesome art from local artists, Rosarito for the Villa de La Langosta (literally a village dedicated to serving the best lobster!) or hit the wineries around Valle de Guadalupe, Mexico's version of wine country. Most of these cities are within an hour drive of each other. I suggest renting a car to make sure you can check them all out!
TRAVEL TIP: I stayed at the Las Rocas Resort & Spa, which in addition to AMAZING beach front views, offers a ton of awesome, affordable packages that include wine tours, spa services, meals and more, making it easy and affordable to book your stay, transportation and fun things to do!
2. FLORIDA BEACHES
Whether you want to hit the beach clubs in Miami, take the family to Disney in Orlando, or plan a girls/guys weekend in Key West, Florida has multiple beaches that are warm year round and offer beautiful views and sunny skies. My personal favorite is Miami for the music, nightlife, chic hotels, amazing restaurants and boutique shopping. If you're traveling with family, or Disney is just your personal favorite destination, check out Disney's Special Offers for up to 20% off hotel rooms and some other great packages offered during winter months!
Travel Tip: Check out all the great offers in Groupon's Getaway section. They even have a special section for "Last Minute Trips" where resorts will drop their prices at the last minute in order to fill vacant rooms. Another great site that offers last minute deals is CheapCaribbean.com.
3. SAN JUAN, PUERTO RICO
After Puerto Rico was hit by Hurricane Maria last Fall, the island's tourism income has drastically decreased while the island works to rebuild its infrastructure. Thankfully many hotels in San Juan are back up and running and waiting for visitors to fill their rooms, so your dollars will contribute to the rebuilding efforts! San Juan is the perfect place to experience warm, sunny beaches year round, as well as culture, history, nightlife and amazing food (one word: mofongo). Take a day to stroll through the cobblestone streets of Old San Juan, let yourself get lost in El Morro (the historic fort that was once used to protect the city) and if you're feeling adventurous, book an excursion into the rainforest with EcoQuest Tours for a three hour zip lining, hiking, rappelling adventure!
Travel Tip: Check out the list of hotels that are up and running in Puerto Rico so you can pick the best place to stay.
4. CARRIBEAN CRUISES
I think it's important for everyone to experience a cruise at least once in their life! Cruises are great because of the convenience - it's basically like being at an all-inclusive resort, except for you wake up every morning literally surrounded by water. There are endless activities every day, weather you're at sea sailing to your next port, or you're docked and ready for an all day adventure exploring on land. My personal favorite part of cruises is the food! Each night you have a beautiful meal in the main dining room where you can select as many dishes as you'd like. Cap off your evening with a musical or a comedy show in the ballroom, and spend your next morning doing yoga by the pool. Cruises are a guaranteed no fuss, easy, relaxing vacation!
Travel Tip: Check out these websites for some cruise ship deals (some of them you can even score a four night cruise for as low as $45/night!) - CheapCruises.com, SmartCruiser.com and even Expedia offers cruise deals!
5. SAN DIEGO, CA.

I had to save the best for last, of course! San Diego is known for its clear, sunny skies, beautiful weather year round, and there are endless amounts of outdoor activities for all ages! If you're the adventurous type, check out the caves in La Jolla where you can go snorkeling or rent kayaks for the day. Looking for a more leisurely visit? Hop on the ferry to Coronado for some amazing views on the water. If you're traveling with kids, check out Sea World or the infamous San Diego Zoo. Personally, my favorite thing to do in San Diego is rent a bike and ride up and down the boardwalk along Pacific Beach. But whatever activities you choose, just make sure you end your day watching the sunset along the Pacific Ocean - the San Diego sunset is a must-see!
Travel Tip: San Diego offers a ton of great local camping or glamping options. This will save you some serious dough by not having to book a hotel! Check out HipCamp for some cool camping alternatives from as low as $30/night near San Diego. 
You can't go wrong with any of these warm weather winter getaways, because no matter which place you opt for, you'll come back sun-kissed, refreshed and rejuvenated...and hopefully by that time, Spring will be on the horizon!
Happy Traveling!
Shady Kate
#beachvacation #beachbound #vacation #beachresort #cruise